Detect Infestations With Bed Bug Dogs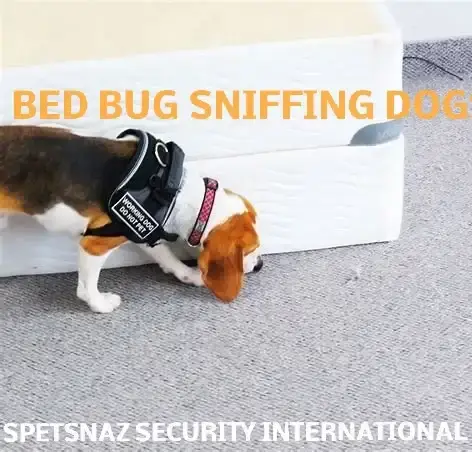 Bed bug infestation has become a serious problem among public as well as private homes and facilities. London and other urban regions are common locations for bed bug infestations. The chances of picking up these nasty critters in metropolitan areas are greater because of the increased travel and concentrated foot traffic. There is constant movement and activity which hastens their spread. These parasitic insects expand their domain via laundry, furniture, clothing, luggage, pets, etc. The presence of bed bugs can cause health concerns as well as financial issues.
How Do Dogs Do It?
A dog can detect bed bugs with his nose. Did you know certain species of dogs have more than 300 million receptors in their noses? Comparatively, humans have about 30 million. This increased sense of smell helps dogs detect odors humans cannot.
Bed bug dogs are familiarized with the scent of bed bugs so that when they enter the building or home, they can inspect the room and point to any areas that have the bed bug scent. Dogs are able to point out the place where the bed bugs are most likely burrowing, even if it is their eggs alone. It is then up to the owner of the property to investigate further.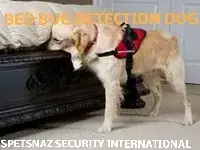 Who Can Benefit From Canine Bed Bug Detection?
We have specially trained dogs available to find insect eggs as well as adult bed bugs. UK K9 Detection Service has dog and handler teams available for contract to search schools, hospitals, hotels, motels, offices as well as private residences. We are available 24 hours a day, seven days a week. We provide scheduled contracts as well as one-time visits.
Bed bug detection with dogs is especially beneficial for large-scale operations where a human may begin to falter during the 10th room under visual inspection.
Bed bug detection is exceptionally helpful for businesses who rely on people visiting or staying at their facility to earn an income. When word spreads that there are bed bugs in a hotel room, chances are potential visitors will head to a competitor even after bed bugs have been exterminated.
Canines are able to sense minute tracks of bed bugs, sometimes as few as one or two bed bugs in any area to a place that has only eggs. This early detection can benefit business owners who need to maintain a strong, healthy, and safe reputation to keep their business profitable.
What Is The Cost?
The use of dogs to detect bed bugs is less expensive and more efficient than many traditional methods. Services provided by UK K9 Detection will provide you with peace of mind without the unknown hidden expenses.At London Security Guard Dogs & Security Services we are not affiliated with any extermination company, and we will deliver an honest and accurate report regarding any findings.
Due to the nature of the business, we cannot provide standard prices for bed bug detection services. Our team will happily give you a quote for the services based on the size of your facility and how many dogs you may need to efficiently get the job done.
Our British K9 London based Dog handlers are trained and qualified to World standards for guard dogs. At London K9 Security Patrol Dogs we provide International first class protection with our dogs for a wide range of applications, from event security to private residential patrols.
For hundreds of years dogs have been used to guard and protect, psychologically demoralizing to criminals, security dogs have been an unrivaled deterrent.
Today more and more individuals and companies in the UK are turning to highly trained security or protection dogs to guarantee the security of the people and things most important to them.


At London 24h Mobile Dog Patrols We pride ourselves on employing the very best dog teams, controlling the best trained guard dogs and patrol dogs. Our handlers and dogs are a unique asset with many benefits over CCTV and traditional security guarding. There is no doubt security dog handling is a cost-effective answer to protecting larger areas or open space where multiple personnel are required.
Explosives Detection Dogs
The most important aspects of explosive detection are accuracy and reliability. K-9 SECURITY DOG PATROL & SEARCH AND DETECTION's K-9s are able to immediately detect both small and large amounts of explosive odors, and can therefore speed up the process of facilitating an appropriate emergency response. They can rapidly screen cargo, luggage and vehicles, cutting down on the time needed to thoroughly scan any kind of area or shipment. Flexibility in the dog's ability to work in different climates and environments ensures that we can service ports, cruise ships, shopping centers, schools, or any type of building or structure easily and accurately.
K-9 SECURITY DOG PATROL & SEARCH AND DETECTION uses multiple dogs as a safety measure to provide independent confirmations of alerts. Especially at major ports, this is to ensure the prevention of an unnecessary shutdown, which would result in the loss of time and money. The Maritime Transportation Security Act of 2002 also mandates that all goods being delivered to and from ports be scanned for explosives. The speed of K-9 detection as opposed to any other type of detection means that we are able to assist cruise lines and ferries in keeping to their on time departures and avoiding delays.
K-9 SECURITY DOG PATROL & SEARCH AND DETECTION's bomb detection dogs also service shopping centers, schools, office buildings and anywhere else explosive detection services may be needed. To find out more about more about how our explosive detection dogs can help create a safe enviornment at your facility, fill out our Request for More Information form.
Explosive and Bomb Detection Dogs Help Secure:
Major Ports
Cruise Ships
Shopping Centers
Schools
Any Building or Structur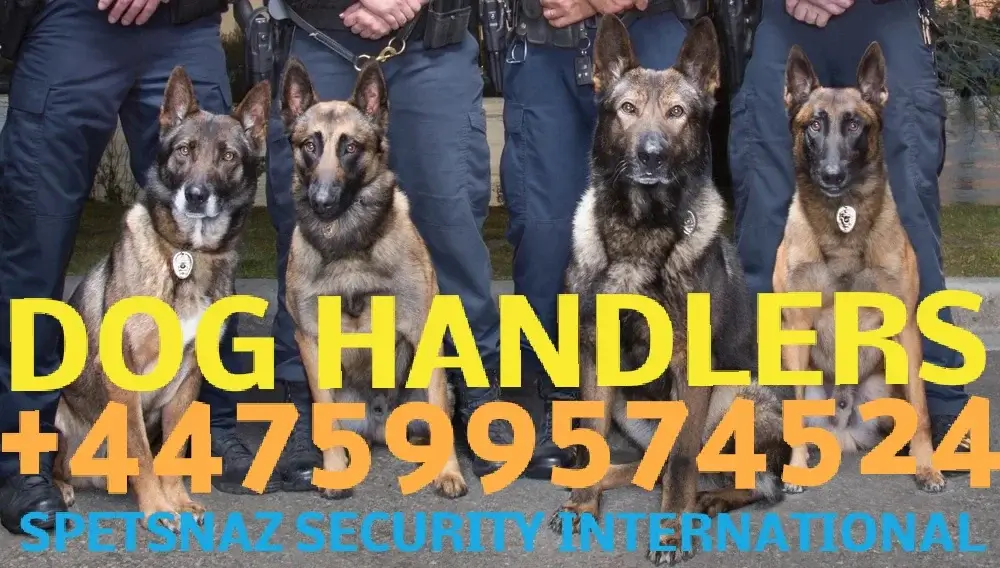 A major problem facing law enforcement agencies especially in the UK and all British territories is the illegal importation of firearms and ammunition. The importation of illegal firearms poses a great risk to UK and all British territories. These territories have seen a dramatic increase in gun related crimes in the past few years. Our canines are being utilized at airports, ferry terminals, cargo shipping ports and cruise ships, as well as assisting local police departments in home searches and traffic stops to detect the presence of firearms and ammunition. In addition to the outright sale of these detector dogs, K-9 SECURITY DOG PATROL-SEARCH AND DETECTION SERVICES now offers a unique package of leasing a Handler and Firearm/Ammunition Detector Dog Team to law enforcement agencies.
Please feel free to learn more about our services by completing our Request for More Information form.
Cell Phone Detection Dogs
A major problem facing law enforcement today is the prevalence of cell phones being smuggled into jails, prisons and correctional facilities. These phones pose a great risk to these institutions because the they can be used for a variety of dangerous measures, including running gang activity and coordinating escapes. Canines are now being utilized to detect cell phones, making them the most effective means of combating this problem.
Recently following a new law making it a felony to smuggle cell phones into prisons, K-9 SEARCH & DETECTION, LLC provides Departments of Corrections with K9s trained in cell phone detection. Currently, cell phone detection services has several canines that are being trained for this purpose, along with many drug detection dogs that are also being used in prisons.
Please feel free to learn more about our services by completing our Request for More Information form.
WHY HIRE SPETSNAZ SECURITY INTERNATIONAL LIMITED?

OUR CORE VALUES
VISION To be the preferred Canine business partner and Security Dog supplier of choice within the security industry.
MISSION Trust in our animals & People | Value of our service | Commitment to supply Quality Service, Dogs & People
VALUES Committed to conducting our business activities with integrity, honesty and respect.
Committed to putting our animals as partners first, Building long term partnerships with our clients, Passionate about our business clients needs, Support creative and progressive training techniques in the Service Dog industry, Dedicated toward providing a cost-effective service to all members of Public,
Canines for Sale or K9 Hire Providers of top Quality German Shepherds dogs to:
The Private Security Industry regulatory Authority (Private & Governments)
Dogs ( Fully Trained GSD`s For Sale or to Hire)
Dog Handlers ( Levels DH1 - DH 4 )
Canine Supplier to Companies locally and abroad (Africa and others)
Security Services - Guarding, Dogs and Handlers
Canine Cent Detection Dogs Available
TAGS:
Personal Protection Dogs, police Dogs, Prison Dogs ispecnaz, security services london, dog training London, doors and events London, maritime security security London, parks and open spaces London, search dogs London, dog handler London, self defence classes London, dog training London, dog training, dog obedience training, dog obedience school, puppy training, dog trainers, dog training in manhattan London, dog training westchester London, dog training London, dog training queens London, dog training bronx London, dog training island London, dog training London, dog training London, dog training London, Dog Training London, protection dog training, Guard dog,Guard security dogs, Guard dog Rental, Dogs for sale, London, Manchester, Newcastle, Reading, Birmingham, Chelsea,Guard Dogs & Security Services , UK Based Security Company | K9 Patrol, SPETSNAZ SECURITY INTERNATIONAL FIDEL MATOLA LIMITED can provide general purpose patrol dog and handler teams, which boast numerous security benefits, Dog/Canine Security patrol dogs in Essex & London, SPETSNAZ SECURITY INTERNATIONAL FIDEL MATOLA LIMITED Services specalize in providing guard dogs & security dogs for both one off events or for longer term security solutions across London
Cent Detection Canines, Explosives Detection Dogs, Narcotic Detection Dogs, Canine for detection of Protected & Endangered Wildlife products, Dog & Handlers Protection, Training DH Dog Handlers, Security Dogs for Hire
Spetsnaz Security International Limited has been providing K9 Security Dog services to business owners throughout London UK, Bath, Birmingham, Bradford, Brighton & Hove, Bristol, Cambridge, Canterbury, Carlisle, Chelmsford, Chester, Chichester, Coventry, Derby, Durham, Ely, Exeter, Gloucester, Hereford, Kingston-upon-Hull, Lancaster, Leeds, Leicester, Lichfield, Lincoln, Liverpool, (City of) London, Manchester, Newcastle-upon-Tyne, Norwich, Nottingham, Oxford, Peterborough, Plymouth, Portsmouth, Preston, Ripon, Salford, Salisbury, Sheffield, Southampton, St Albans, Stoke-on-Trent, Sunderland, Truro, Wakefield, Wells, City of) Westminster, Winchester, Wolverhampton, Worcester, York for many years. At London Security Company we have trained security officers available to conduct nationwide Search Dogs & Sniffer Dogs London services across the country.
Please contact us confidentiality to tell us more about your enquiry and the types of K9 Security Dog Handler Services that you are looking for. We will be happy to help out in any way possible to ensure that your event is a success.
Call us now on: +44 (0759) 957 45 24 - Viber & WhatsApp
We take pride in saying that none of the residential security companies in london offer any of our premium services at the price that we can offer. You can hire security for events, wedding, corporate parties and gatherings, film and tv sets, shows, pubs. concerts and for private events, debt collection, restaurants, night clubs, casinos etc.
Spetsnaz Security International Provides Services in following areas of London
North London | Camden |Euston |Hampstead |Highgate | Kentish Town |Kings Cross |Islington |Stoke Newington |St. Pancras |Wembley ....

South London |Brixton |Dulwich |Forest Hill | Greenwich |Lambeth |Southwark |Wandsworth | Wimbledon
West London |Brentford |Chiswick |Ealing |Fulham |Hammersmith | Hampton |Isleworth |Twickenham

East London |Docklands |Bethnal Green |Shoreditch |Spitalfields |Whitechapel |Walthamstow |Mile End |Bow | Stratford
Central London |Bayswater | Belgravia|Bloomsbury |Clerkenwell|The City |Holborn | Mayfair |Paddington |Pimlico |Soho |St. James's | St. John's Wood |The West End | Westminster |Whitehall
We Cover following postcodes for event security in London
EC1 |EC2 |EC3 |EC4 |W1 |W2 |W4 |W6 |W11|SW1|SW3|SW5|SW7|SW11|SW19 |SE1|SE10|SE21|E1|E2|E3|N1|N5|N6|NW1|NW3|WC2|EC1|EC2|EC3|EC4|W1|W2|W4 |W6|W8 |W11 |SW1|SW3 |SW5 |SW7 |SW11 |SW19 |SE1 |SE10|SE16 |SE21 |E1 |E2 |E3 vN1 |N5 |N6 |NW1 |NW3 | WC1 |WC2|
In addition we can deploy our services national or international 24/7, 7 days a week.
For more information, contact us confidentiality:
Call us now on: +44 (0759) 957 45 24 - Viber & WhatsApp