Top Reasons to Hire Our Private Chauffeur Services
What is a lone worker?
A lone worker (LW) is an individual who performs an activity that is carried out in isolation from other workers without close or direct supervision. May expose such staff to risk because there is no one to assist them, so that that risk assessment may be required. Lone workers are now often supported by cloud-based automated monitoring systems and specialized monitoring call centers - often referred to as an 'Alarm Receiving Centre' or 'ARC' in the UK.
It is in the employer's interest to ensure workers' safety from regulatory and cost perspectives. One critical area is to allow all workers to alert others. It is in the employer's interest to protect workers from regulatory and cost perspectives. One crucial place is to enable all workers to warn others when they are not safe anymore. This is particularly important for lone worker protection as they often work without any supervision or anyone around. In most countries, employers are required by law through occupational health and safety agencies (HSE in the UK to give two examples) to take specific precautions to control the risks for their lone workers.
Spetsnaz Security International, Ltd., above all other lone worker protection solutions, provides the best capabilities for employers to understand the safety status of all workers and be readily alerted in case of an incident.
What is Physical Surveillance?
They are recording the movements, activities, and Interactions of a Person or a group of people. Experienced surveillance agents are available national or international at relatively short notice to monitor and record any person or group of people's movements, interactions, and activities. Agents are fully equipped with hi-tech audio/video/tracking equipment and can be deployed in teams comprising roving vehicles, motorcycles, and "boots on the ground." In addition, aerial and waterborne surveillance can be arranged. Surveillance is a critical investigative resource in any investigation or inquiry as it provides clear, unambiguous, and irrefutable visual proof of a person's actions.
Governments use surveillance for intelligence gathering, prevention of crime, the protection of a process, person, group, or object, or the investigation of crime. However, criminal organizations also use it to plan and commit crimes and gather intelligence on competitors, suppliers, or customers.
Surveillance monitors behavior, activities, or information to influence, manage, or direct. It can include observation from a distance using electronic equipment, such as closed-circuit television (CCTV), or interception of electronically transmitted information, such as Internet traffic. It can also include simple technical methods, such as human intelligence gathering and postal interception.
How much does surveillance cost?
Surveillance usually is billed per agent, per hour. This hourly fee depends upon the area in which the administration is to take place, the number of hours of surveillance required, and other factors relevant to the matter. The standard AA rates will be charged per vehicle per mile if cars are used. Other forms of transportation and incidental expenses (e.g., parking, tolls, entrance fees.) are billed at cost. I will discuss all costs with you beforehand and a pre-approved budget for incidental expenses. We would contact you to discuss and seek approval for any potential significant expenses that arise during the surveillance so you will never end up with a final bill that you were not expecting.
This service aims to provide complete security services using physical and digital surveillance instead of close protection bodyguard services. Protective surveillance-counter surveillance is the same as a close protection bodyguard service but conducted invisible, giving you peace in mind and an advantage over your enemies/competitors or anything that you might worry about. Performing operations on the street, our surveillance-counter surveillance officers are entirely invisible, and they can act as anything to blend the environment. These exceptional surveillance services give you an advantage in reclaiming the element of surprise and the tactical edge by conducting truly covert protective operations.
If you do not want a security guard shadowing your every move, we offer protective surveillance services. This is a more low-profile technique used to protect clients who wish to keep their privacy while having peace of mind that there is a responsive and capable security team nearby if a situation arises.
We provide security officers and electronic surveillance systems national and international to office buildings, construction sites, retail space, transportation facilities, private residences, neighborhoods, business and commercial properties, local communities, data centers, government, and non-government installations. Fulltime and part-time contracted services receive the same quality of service backed by our commitment to excellence.
Spetsnaz Security International Door Supervision in the London Area and Nationwide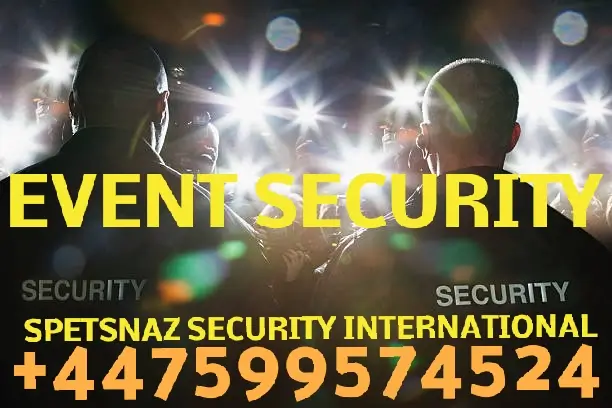 Spetsnaz Security International, Ltd. is one of London's premier providers of licensed door supervisors, offering complete security services to all areas of the licensed industry from small restaurants, pubs, clubs, and bars to large premises and larger entertainment venues.
The leisure industry is a particularly unpredictable business, requiring changing attitudes and approaches to many different situations. We frequently supply door supervisors to leisure and entertainment venues in London and many other areas nationwide.
SIA Licensed, UK Government Vetted and Fully Trained
Here at Spetsnaz Security International, Ltd., our highly trained, skilled, and knowledgable licensed Door Supervisors are ready at a moment's notice to adapt to any given situation at any given time. All of our door supervisors are trained in common law included: Behavioural Standards, Civil and Criminal Law, Search Procedures, Arrest Procedures, Health and safety, fire and safety, and more. In addition, all our staff is trained to resolve situations proactively is always step ahead and resolve conflicts before the start, wherever possible, but they will not tolerate and are committed to preventing any manifestation of intimidation, aggression, violence, anti-social behavior, or bigotry at our client's venues.
Wherever you operate a small restaurant, pub, club, or bar, we have the experience and knowledge to assist you in ensuring the success of your venue. We can provide permanent or temporary teams from two people upwards. Spetsnaz Security International, Ltd. is an equal opportunity employer, and the unit can be structured with male and female door supervisors.
The port of London has been central to the economy of London since the founding of the city in the 1st century and was a significant contributor to the growth and success of the town. However, like any other Port, it can be considered a world on its own. Millions of containers are shipped yearly by a variety of companies. All these shipments require 24/7, 7 days week security both at the port and on board the ships.
Ports and maritime companies are indispensable to our economy. But security in the marine sector is a complex matter, and business needs to adhere to various regulations. This requires constant professional control mechanisms and appropriate security firms working in the maritime industry.
Compared with surveilling business perimeters, port surveillance requires a specific approach. Maritime security guards are trained in port security under regulating private and exceptional safety. Rest assured that they will always act adequately and take the correct security measures.
If you are active in the maritime sector, you will undoubtedly recognize the following risks:
Cargo theft
Security incidents
Drug and human trafficking
Terrorist threat
Illegal Access
Fire
So what Does a Maritime Security Guard Do?
The tasks of a maritime security guard with the functions of any other type of security guard. The main difference is that marine security guards can be working on a ship or yacht which is on its way to its destination. Therefore, the conditions in which maritime security guards must work are constantly changing.
To be prepared in the best possible way for any dangers on the water, maritime security guards must follow an extensive training program that includes both theory and practice. The theory part is focused on understanding the safety of a boat. For example, what are the most targeted places onboard by pirates? How do pirates get on board a ship? How can you best protect the control room of a boat?
The practice part is the part of the course that requires endurance, anticipation, and surviving skills. So, whenever you have hired a professional maritime security guard, you can be confident that you are in good hands. Not only because of the extensive training but also because professional maritime security guards are often former marines with decades of military training.
What Are The Benefits of Hiring Maritime Security Guards?
The presence of maritime security guards on your ship or yacht brings many benefits. Before leaving the port, the security guards check the boat for defects. They will make sure that all defectives such as open hatches, defective doors, broken windows have been fixed so that you are good to go.
Another benefit of maritime security on your ship is that pirates no longer see you as an easy target. So it will demotivate them and try to look for other marks.
The last benefit is that maritime security guards can train your ship's crew on board. Based on their training and decades of experience, they can teach your team how to keep the boat as secure as possible. It is paramount that all security information is shared and among the crew. Once the ship has left the port, the staff and the maritime security guards need to work closely together as there is nobody else to rely on while you are in the middle of the sea.
Why Should You Hire Spetsnaz Security International for Your Maritime Security Guard Needs?
When you own a yacht or a ship in London, and you decide to cross the ocean, make sure to contact Spetsnaz Security International. Our highly trained maritime security team has decades of experience on the water. We know the challenges you and your crew can face while on the sea. We can scan your ship and point out any security improvements to make your boat or yacht safe and secure. If you require maritime security guards on board to protect you during your journey, you are in good hands with us. We have the best professional marine security guards in the industry directly available to help you. Contact us now to get started.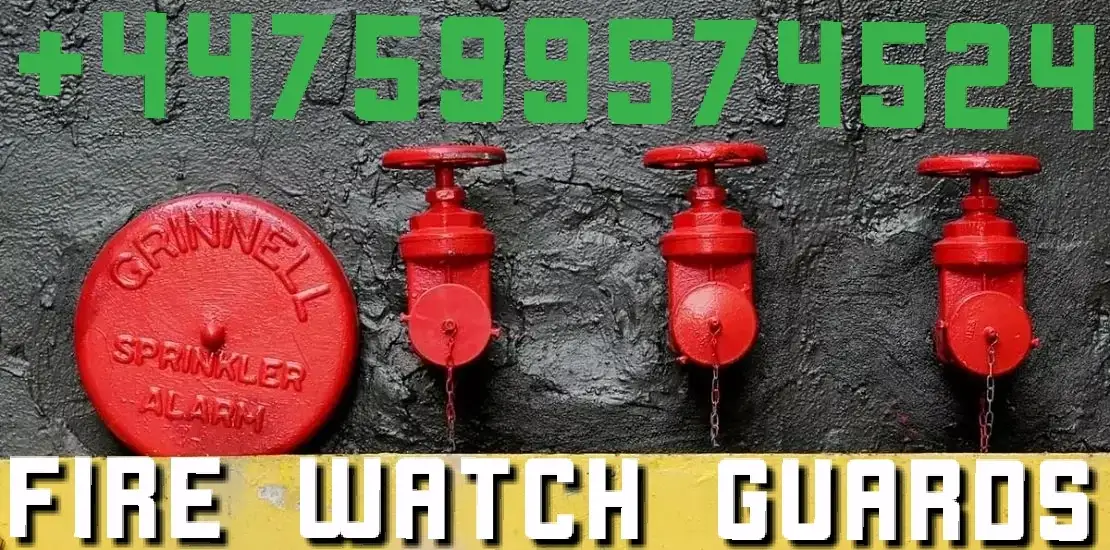 Don't wait. Hire a fire watch guard in London, now! If you're a property owner in London and your building's fire alarm system and a water-based fire protection system such as a sprinkler system are inoperational, hire a fire watch security guard and implement a fire watch. Your safety is paramount to us, and we will do whatever it takes to ensure you have the fire watch services you need at the best rates. We serve London, including East London, West London, North London, South London, and nationwide.
Why Choose Us?
Fast Dispatch – We have fire watch security guards in London waiting for your call. We guarantee your guard will be on time and ready for service.
Fully Equipped – Your fire watch patrol will be equipped from the moment they set foot on your property.
Fire Marshall Compliant – Your fire watch officer, will keep a log and monitor the area per city and ordinance.
Emergency Trained – Our security officers are trained to identify hazards and work with the local 999 authorities.
Verified Alarm Response
Construction Security Guards London
Is your construction site in need of security? Spetsnaz Security International (SSI) is based in London, UK. It provides construction site security services in the metropolitan London area, including Mayfair, Paddington, the Soho, Pimlico, St. James's, St. John's Wood, the West End, Westminster, Whitehall, Central London, Bayswater, Belgravia, Bloomsbury, Clerkenwell, The City, Holborn and all the rest of the boroughs.
We understand that with any construction project, time is money. However, any delays to a project due to theft, vandalism, arson, or other damage can push back a project's completion date and add unnecessary and unplanned costs.
Construction sites are most vulnerable when work has stopped, and workers have gone home. However, expensive equipment and materials often remain susceptible to theft or damage without proper security.
Don't Become a Statistic.
According to the most recent National Crime Information Center (NCIC) statistics, over 10,000 heavy equipment thefts are reported per year, with an under 25% recovery rate. The total cost of this theft is in the '300 million to '1 billion range. Of course, security isn't free, but it's a bargain compared to losing expensive equipment or facing a damaged construction site. Additionally, many insurance companies offer reduced rates if a professional security company is hired to guard a place.
What We Can Do
Spetsnaz Security International unarmed security guards and provides various services, including access control, perimeter or walking patrol, control room/CCTV monitoring, vehicle patrol, and more.
We can, of course, provide all required documentation such as our state-issued license, insurances, certificates, and registrations that allow Spetsnaz Security International and our agents to offer construction security detail services.
The Spetsnaz Security International Construction Site Security Difference
Spetsnaz Security International is suitable for you if you are looking for a company to provide the personal touch and close management of your contract that you won't get with the big security companies. If you are looking for construction security in Yonkers, you can come to visit us in person, and no matter where you are located, we can come to you to discuss your needs.
We provide K9 security patrol solutions to businesses, private homes, events, and more at London dog handler services. During COVID and protesting, demand is very high, so please call to learn more! We help protect what's valuable to you!
We are proud to provide explosive, bomb, weapon, drug, and k9 security patrol sweeps and security at public and private events in London, Essex, Reading, Manchester, Birmingham, Devon and Cornwall, and many more cities! In addition, we are happy to provide references to major events and private businesses/homes where we have offered K9 patrol and event security. We currently search in all major cities nationwide, including London, Reading, Kent, and Canterbury. We also frequently work events nationwide in Bristol, Leeds, Sheffield, Bradford, Liverpool, Newcastle Sunderland, Wolverhampton!
Our K9s will sniff, search, sweep, screen, and help deter/prevent any illegal contraband from your event. Domestic and international terrorism is a real threat, and detecting dogs can help keep your event space safe. We have recently added K9 explosive and narcotic detection services for hire to London and more significant events across the United Kingdom!
Enhancing Your Event Security Measures to Promote Safety
We can search for bombs or drugs at promotional events, religious events, school events, political events, charity events, and more! In addition, our K9s can sweep at patrons enter or exit and search the surrounding perimeter, including vehicles, to boost event security and increase safety.
Call K9 London Dog Security Handlers today to learn how to strengthen your event security measures nationwide!
Locksmiths - Emergency Locksmiths | 24/7 Locksmith Services London
#1: London Locksmith
Whether you run a small business or a large corporation, Spetsnaz Security International provides the most advanced commercial security services for your business.
We take every measure possible to attain the highest levels of all locksmith services. All of our locksmiths are excellent training in the locksmith field and bring with them a wealth of knowledge and experience. So if you get locked out, we can help!
Door Lockout Services
Nowadays, installing automatic doors has gained massive popularity across the world. These doors open and close automatically as soon as someone moves inside your property. They are installed at airports, hotels, malls, and other places visited by the masses. But, as these doors require specific maintenance, it is mandatory to get them serviced from time to time to enjoy their flawless service.
The expert Spetsnaz Security International locksmiths have experience detecting and rectifying the issues related to these doors. We are available 24×7 to assist our customers.
24-hour Emergency Locksmith
An emergency can happen to anyone without any prior notice. For example, after reaching home, you realize that your home's key is missing, and the extra key is inside the house, or the high-security lock of your home or office is not accepting the password or identity stored for unlocking the lock. This situation is enough to frustrate anyone. In addition, there might be other situations where you might find yourself stuck in a situation where you cannot use your assets (like a car, bike, or step in your house or office) because of missing keys.
Interestingly, Spetsnaz Security International Locksmith has a team of dedicated locksmiths who are always ready to help the customers in need 24×7 without any concern of time and place. We are just a call away from you.
Commercial Locksmith
At Spetsnaz Security International Locksmith, how it is not easy to set up your business or commercial property for giving it on rent. Therefore to protect your hard-earned money from the eyes of burglars and anyone trying to retain possession of your commercial property during your absence, we have expertise in installing high-security locks and alarms. Installing these locks and alarms will help protect your crucial and secret documents, office accessories, and various expensive assets at ease.
Our locks. Our locksmiths are equipped with the latest tool and equipment and carry vast experience in dealing with all types of issues related to locks. We are available 24×7 for our customers in need and reach their place at a single call.
Residential Lockout
The situation of residential lockout can happen to any person, and the person or family with whom this situation occurs is no less than a nightmare. Standing out of the home because of the missing key is enough to irritate anyone. On the other side, as it is a matter of your house's security, you cannot find any locksmith to unlock or develop the duplicate keys for you. Moving ahead, it is also hard to find any 24×7 locksmith who could come to your place and rectify the issue.
Interestingly Spetsnaz Security International Locksmith Locksmith is an established name in London for detecting and rectifying the issues related to all types of residential locks. From conventional locks to modern high-security locks and alarm systems installed at your homes. We are also expertise in rekeying your door. One more important feature of our service is giving you an estimate of our service free of cost before working for you.
Car Lockout
For the car owner's situation of a car, for the car owner's case a vehicle, for the car owner's position a vehicle, the lockout is one of the highly frustrating situations where they are not able to drive their vehicle just because they don't have its key with them. However, car lockout usually forgets the keys in a locked car, but there are various other reasons also like missing keys, broken keys, or some malfunction in the vehicle's central locking system. Whatever the reason is, there is nothing more painful than not driving your car which doesn't suffer from any mechanical issue. The situation is not less than a curse when you need the vehicle urgently to move somewhere.
Instead of getting panic, you need to find options to get rid of the problem. If your car is under warranty, you are lucky enough to call your dealership for assistance immediately, but what is the option to combat the situation if it is not under contract. Interestingly, it is the time when you need assistance from an expert locksmith who could help you in coming out from the situation without any damage to your car and its existing lock system.
The Spetsnaz Security International Locksmith has a team of expert locksmiths capable of unlocking all types of locks installed in your car. The expertise of our team lies.
Unlock your car without damage to your vehicle's exterior or interior portions.
Developing duplicate keys if they are lost or misplaced.
Take out the keys if they are stuck in the ignition or tailgate.
Repairing and replacing the alarm system.
24'7 service on an emergency basis.
#1: London Retail Security Guard Services
Our retail security is licensed and regularly trained by the Security Industry Authority (SIA). In addition, we offer Professional guards or discreet store detectives for your retail establishment anywhere nationwide. Available 24/7. Spetsnaz Security International Limited is a dynamic, innovative UK security company offering a complete range of retail security London services, available throughout the whole of London and anywhere nationwide, 24-hours a day, seven days a week. Spetsnaz Security International Limited ensures your retail premises are adequately protected by first aid trained and (SIA) Licensed male and female security guards available 24/7. We offer the best and the most trained security guards across the country.
Spetsnaz Security International works with a broad range and diverse retailers to provide safety to their staff and secure their assets. Our security agents, both armed and unarmed, are trained in customer service, specifically for high-end luxury boutiques. While our primary responsibility is security, it is equally important to recognize that we are often the first impression customers see; appearances and service matter. Our agents are perfect for the high-end retail sector; agents are outfitted in the security industry's highest quality suits and uniforms. The expense is never an issue with Spetsnaz Security International regarding uniforms and equipment. Achieving 'the look' that our clients desire is always our priority. Our security agents are highly professional, clean-cut, and trained, and we can customize a security program unique and specific to each of our client's needs.
London Luxury Retail Security Agent Services
We realize that being a leader in the security industry is all about service and exceeding client expectations and needs. Our agents are available 24/7 to meet all of your retail security needs, including:
Product Launching
Product Transports
Overnight Security
Emergency Response
Inventory Audits
Plainclothes Undercover agents
Undercover Employees
Mystery Shopping
Temporary coverage
Holiday coverage
We are the Most Technologically Advanced Digital Investigative Agency in the Industry
If you need the most in-depth digital investigation possible, you've found it here in the City That Never Sleeps- London. Our highly-trained computer forensics engineers at Cyber Investigations Services London use the most advanced tools and knowledge to extract evidence from computers, smartphones, and other mobile devices.
Unlike traditional private detective work that can take months to produce results, we help you find the evidence you are looking for in as little as 48 hours. Rather than wasting countless hours on costly fieldwork by a private detective, we can help you find the evidence at its source's digital devices.
Like DNA, the data on our computers and phones contains code that, once unlocked, can answer questions with irrefutable certainty. For example, digital artifacts from voicemails, text messages, and GPS logs can unveil many details about a person's motivations, attitudes, and activities. That can shed a bright light on covert behavior.
A sophisticated network of cameras known as the Lower Manhattan Security Initiative, or LMSI, helps police positively identify the license plate numbers and specific vehicles involved in collisions, hit-and-runs, and other traffic infractions. Those cameras are everywhere you look these days, from offices to businesses to homes, and they record all kinds of evidence. At London Cyber Investigation Services, our private detectives can help clients gain access to footage from closed-circuit surveillance cameras as well as data from smartphones, hard drives, social media accounts, and a wide variety of digital devices to find crucial answers in all kinds of civil cases and criminal investigations.
We can help clients with: Text Message and Email Recovery, Audio, Photo, and Video Enhancement, GPS Logs, Employee Background Checks, Cheating spouse, Digital Remote Monitoring.
Leading Private Investigation, Digital Evidence Services in London
If you have concerns about a cheating wife or husband, employee theft, a custody dispute, or other matters, we can help you get answers. We provide industry-leading digital forensics services to businesses and individuals through our vast offices throughout Eurasia and the United States. Our team includes experienced, certified digital analysts and dedicated customer service associates who provide clients with high-quality services.
We know security and confidentiality are top concerns for our clients. Therefore, we employ strict security and confidentiality protocols at all of our locations. We also conduct daily procedural and record audits on every case we handle. As a result, we guarantee that clients' requests and information are secure and confidential.
To open a case or learn more about our services, please give us a call at (+44) 759-957-4524 to reach one of our London locations. Our dedicated customer service representatives are available at all hours, seven days a week, every day of the year.
Don't hesitate to contact us with confidentiality to tell us more about your private investigation services requirements and the types of security services you need. We will be happy to help out in any way possible to ensure that your event is a success.